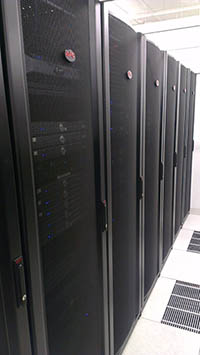 In May 2014, we implemented a major upgrade and migration of our servers to a Tier-III Melbourne based data centre.
This upgrade has provided us with more processing power, more RAM, extra bandwidth and extra space which has improved the load/response time and performance of all sites we host.
Our Virtual Infrastructure and network is built from the ground up to provide the highest quality, most reliable business services for our customers.
Our network leverages Cisco routers and switches for total dependency and performance, and features a redundant design to provide capacity in case of a failure in any part of our network, meaning that our client's sites are always protected against downtime.
Our Virtual Infrastructure operates on enterprise grade Intel servers, with dual Quad and Hex core processors.
Complete backups in the form of entire server snapshots are performed on a daily basis, and there are also separate daily account backups for WHM/cPanel servers. In the unlikely event of a host server failure, the system can be restarted very quickly (with an approximate downtime of 5 minutes) on another host.
We have a very tight SLA for connectivity uptime and provide 24x7 fault reporting and resolution. We take the utmost care with security.
Detailed Information about our Data Centre
Location
Melbourne, VIC Australia
Power Specifications
Minimum N+1 Redundancy on Power Supply
2 x UPS Systems (N+1)
Dedicated Supply Authority sub-station on site, 3200 Amps
2 x 800KVA UPS + Proposed 2 x 600KVA Dual Cord N+1 configuration
3 x Generators onsite (N+1 configuration, Utilised on Demand) character-f-final-1 • Main Switch Board to Australian Standard 4Bi with 3200 Amps
4 x STS supporting 4 x UPS systems and 3 x Independent Mechanical Switchboards + 14 Essential Power Distribution Units
UPS auto switch/dual cord, automatically switched in upon power loss
Redundant/dual power is provided to each rack
Dual Distribution Boards configured with ISO-Bar Technology

Fire Detection and Suppression
2x VESDA sensor systems and 40x Smoke Detectors
2 hour fire rating supported by 2hr fire rated doors in DC
VESDA Fire Detection, under floor, ceiling and Return air
Multiple SFIP with Mimic configuration fire suppression system

Data Centre Security
Access Control via Proximity Cards & Biometrics
Secure Locked Racks
CCTV Camera Monitoring
24x7 Security Monitoring & Patrolling

Controlled Environment
Minimum N+1 Redundancy for Air Conditioning
3 x Chiller Cooling System (N+1) 14 x 150KWs airconditioning units, supported by 3 x Cooling Towers
Temperatures Maintained at 22ºC (+/- 2ºC)
Humidity Maintained at 50% (+/- 10%)
Environmental Monitoring