The process of keeping your website updated with new content and product information is extremely important for your sites SEO but it is only one task that needs to be completed to assist with your sites ranking in Google and other search engines.
An important part of the full SEO algorithm is the version of software your site is running, whether it be the CMS, your templates responsiveness or the hosting servers software (e.g. PHP, MySQL, etc) they all come into the equation.
Updates happen on a regular basis due to constant reviews and bug reports from around the world and having a safely stored back-up of your site will provide you with peace of mind, knowing your site could be restored quickly if anything did go wrong.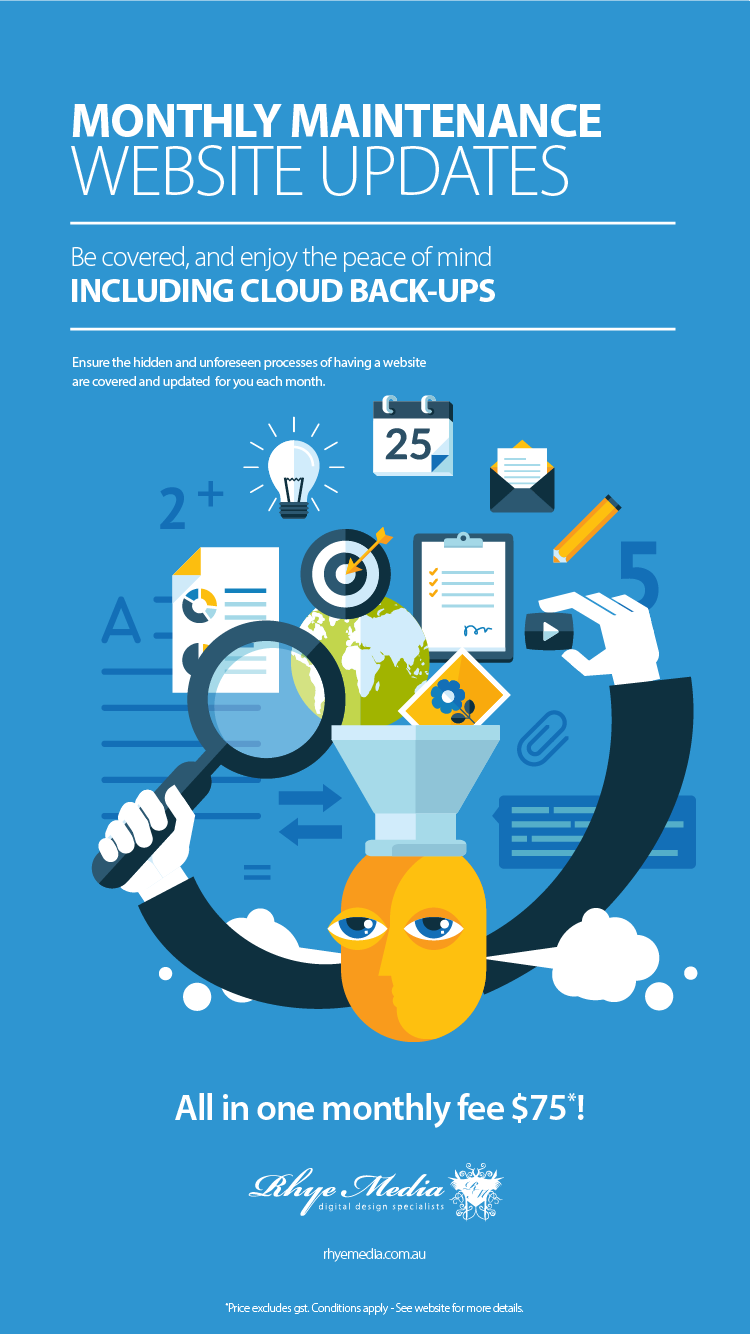 Our new "Keep me updated" option is now in place and will ensure the hidden and unforeseen processes are covered.

So what are these hidden processes?

 
Step 1.
Setting up your site in Googles Console.
This not only tells Google that you're online it also monitors your site for any issues, including 404's and mobile display problems.
As well as this we can generate reports (see example below) showing you where your site ranks based on queries, how many times it appeared in searches and so much more. After the initial set-up, we will monitor the output each month to ensure any issues are addressed.
Step 2.
XML Site Mapping your site.
We will create a format of your site ready to be digested by Google and submit it to ensure your site is regularly scanned and any new pages are added.
Step 3.
Google Analytics may seem like a given but many clients neglect the potential of this information.
We will ensure you are supplied with an overview of your site's performance (see example report below) and identify areas that should be improved.
Step 4.
Back-up!
An extremely important step is the 'site back-up' process, this step ensures there is a complete copy of your site stored securely on an external server. This means that if your site breaks, is compromised or fails completely, there is an option to quickly have you back online using an external copy.
The back-ups can be scheduled to a time frame of your choosing* between monthly, fortnightly, weekly or even daily depending on which package suits you best.
Step 5.
Site Review.
Once a back-up as been made the next step is to review your sites template, components, modules and plugins and ensure they are updated to the current versions. Or if required uninstall them and find a suitable replacement.
Step 6.
Reporting.
Once we have your site updated you will be supplied with a report covering what was updated, details of any issues or problems found and an overview of your sites visitors and search results.
Example Reports: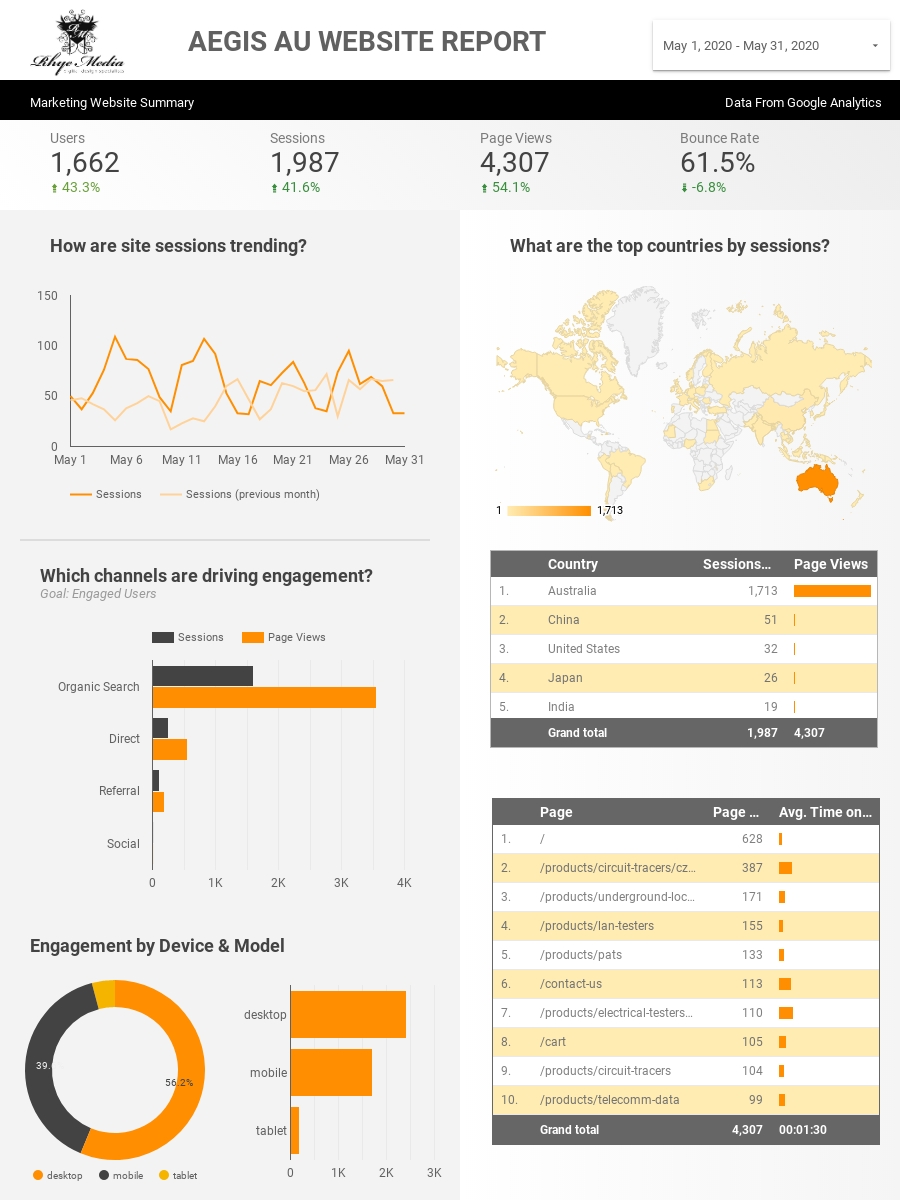 Analytics Report:
This report provides details on the number of visitors to your site and how many pages were viewed.
This also includes visitors country, device and top 10 pages.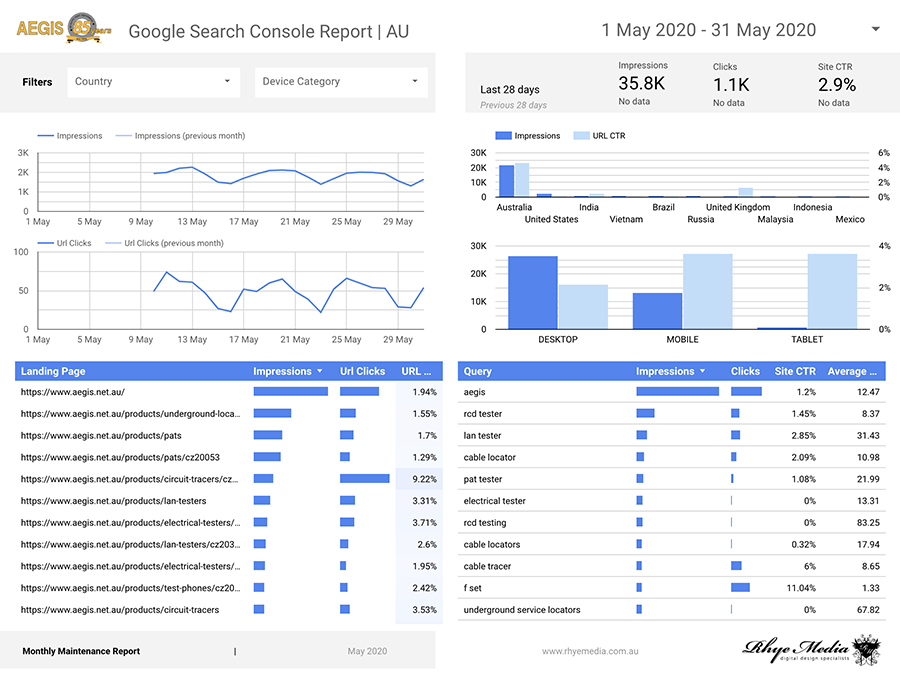 Console Report:
This report provides details on how your site is being viewed in search queries. The number of times your site appeared and the number of clicks.
This also includes the top searched words/phrase and landing pages.
See below for a detailed breakdown of the tasks performed.
---
Ongoing monthly items and tasks:
Monthly management fee

$

15

Site back-ups

$

15

CMS, components, modules and template updates*

 

$

35

Analytics review

$

10

*Updates will only be installed if new versions are available and if required

 

 

 

MONTHLY TOTAL (excluding GST)

$

75
Additional back-up frequency fee (*if required)
| | | |
| --- | --- | --- |
| Fortnightly back-ups + | $ | 15 per/mth |
| Weekly back-ups + | $ | 20 per/mth |
| Daily back-ups +  | $ | 30 per/mth |
If you have any queries about anything at all to do with your website, you can contact us here; it's the first port of call if you need any help with your own website, or if you're interested in having one made for your business.
We look forward to hearing from you!