After many weeks of training and attempting to improve our fitness levels I am please to announce that we successfully completed the 'Ride the Night' Melbourne on Saturday the 30th January.
Ride the Night was established to help break the cycle of youth disadvantage across Australia. Each rider raises money to support the work of YSAS in Victoria, The Link in Tasmania and Brisbane Youth Service in Queensland to enable vulnerable and high-risk young people to take control of their health and wellbeing.
The event is run in partnership with the Bicycle Network, so it's only fair they too benefit from each rider's generosity! By fundraising for the event, you're also helping the network towards its vision of better infrastructure, and getting more Australians fit and healthy through cycling.
To find out more, check out the links below:
We arrived early and completed the registration process prior to the large queue forming. True to Melbourne's reputation, around 11:15pm the skies opened up with a heavy down pour and lightening show which continued as Midnight approached and it would continue well into the next hour.
Riding 70Km's was always going to be a stretch; having shoes full of water, soaked socks and the slippery conditions only added the challenge. See the map below for the course we took.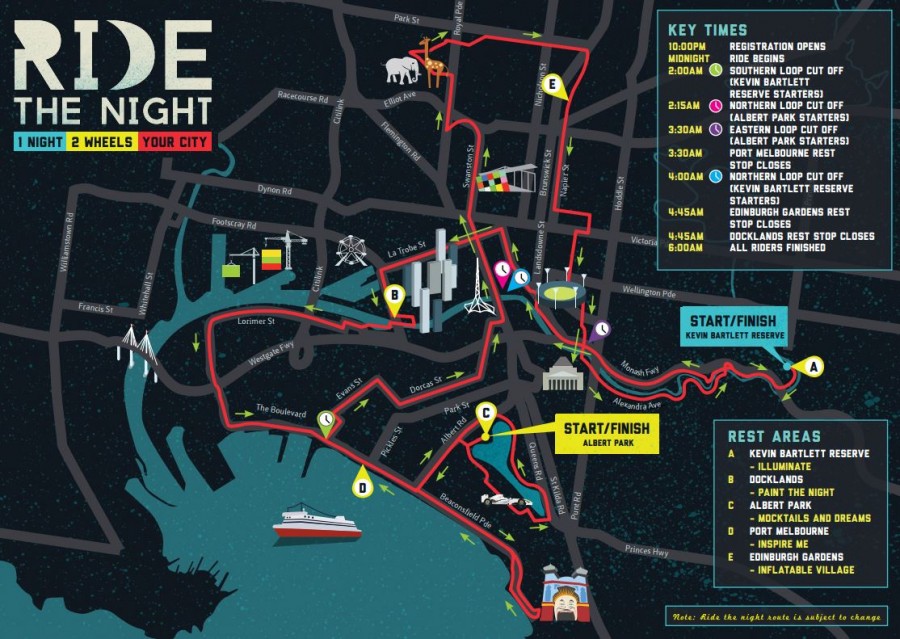 After riding the Melbourne 'Capital City Trail' and parts of the course a few weeks earlier we knew parts of the course already. Riding during the day with a small group didn't really compare to what we would experience at night with thousands of other riders.
The city was truly a wonderful sight; the building and street lights reflecting of the wet roads added the experience and after just over 5 hours our team had made it back to the Albert Park 'Start/Finish' line. Well done to the organisers of the event, the store holders, the volunteers who showed us the way and to all of the riders.
We'll see you next year!
If you'd like to generally keep up to date with our news and latest projects, you can subscribe to the RSS feed of these news articles, and you can also find us on Facebook, Twitter and Google+.
From the Team at Rhye Media